ARIA DI MACCHIA - VINUM EXTRACT
Room diffuser
I have been making wine for about 10 years.
I was literally kidnapped by wine, by its mysteries and above all by its fragrant molecules, able to give me stimuli and sensations.
I wanted to accept a desire that I had been living for a few years: to bring the scents of my life into a room.
Here comes the project
STAIN AIR, and my vineyard was the inspiration for it.
I assembled the scents of the vineyard, of the environment of the Tuscan coast and two wines produced by me in 2 room fragrances
"Vinum Extract".
Because wine is not only drunk, it is tasted, studied, examined and above all smelled.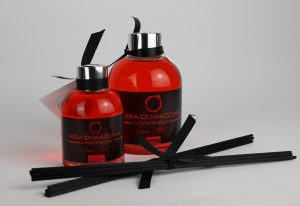 No products were found matching your selection.