DATA SHEET
Type: Toscana IGT Rosé
Grapes: Merlot X Petit Verdot
Vineyard management:: Organic farming
Soils: stony with a prevalence of sand
Vineyard age: 22 years old
Vinification: rosé by soft pressing
Alcohol: 13 %Vol
pH: 3,25
Service temperature: 10-11 ° C
Serving suggestions: it is a transversal product that allows a wide range of combinations, fine salamis, fresh cheeses, white meat, processed fish and shellfish.
Btl quantity produced: 3000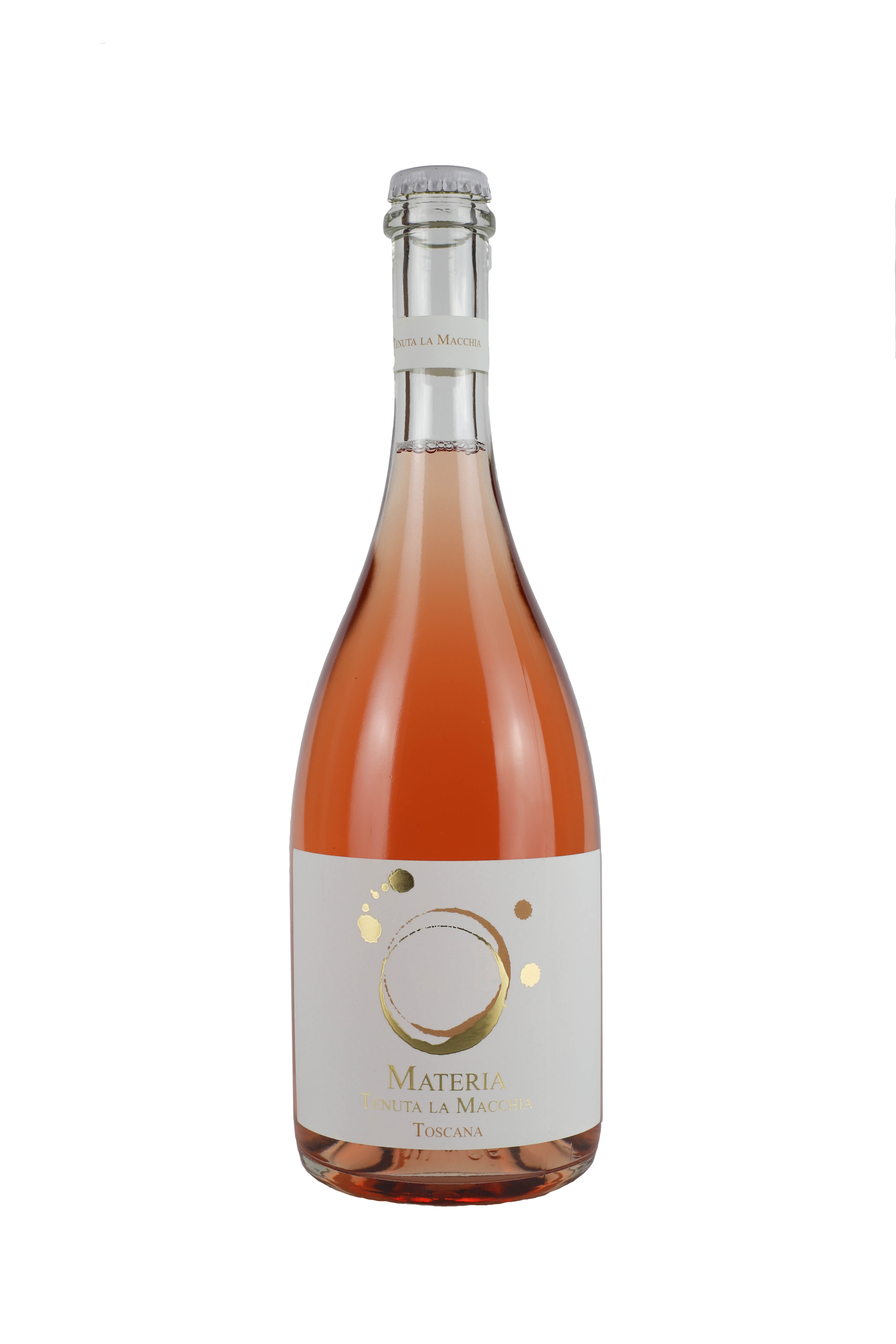 PRODUCTION TECHNIQUE
The MATERIA Rosè Wine is obtained from the rosé vinification of Merlot X Petit Verdot grapes.
Through the organoleptic tasting of the grapes and some analyzes (pH, AT and sugars) we choose the best time to harvest our bunches on about 30 rows.
The grapes are rigorously harvested in 15 kg crates with careful manual selection.
The grapes are transported to the cellar and through a soft pressing of the whole bunch "immersed" in dry ice, which keeps the environment inert and the low temperature, the clear rosé must is obtained, ready for alcoholic fermentation.
Il processo fermentativo è spontaneo, senza aggiunta di lieviti, e si svolge per circa 20/25 giorni
ad una temperatura tra i 15/17 gradi.
Then we go to separate the coarse lees and wait for the malolactic fermentation to take place.
At the end the wine rests on the noble lees for about 4 months where we carry out a periodic suspension. After a light clarification and filtration, the wine is ready for the bottle.
ORGANOLEPTIC CHARACTERISTICS
Il colore di questo vino è un pesca brillante; al naso è delicato ed elegante con note di frutta a polpa chiara, popone bianco, ciliegia, fiori bianchi, note burrose. Bocca morbida, avvolgente, moderata da un'ottima freschezza e da una nota burrosa e minerale. E' un ottimo prodotto a tutto pasto ed un elegante compagno per un perfetto aperitivo.
Join Us Now!
Do you want to become a freely a member of TM WINE CLASSYou can get BENEFITS for all our events. Being part of the T.M Wine Class means getting to know before others and being able to experience business initiatives related to the world of wine.
Visits and Tastings
A sensory experience!
Complete tasting of 4 wines
with the explanation of the Winemaker, accompanied by a small plate of local products in combination.
From Monday to Sunday from 9am to 5pm upon reservation required at least 24 hours in advance.
BOOKING FORM
WINE SHOP / CANTINE DEL GUSTO
Piazza Matteotti, 22 - 56040 Montescudaio (PI)
KEEP THE SPOT

Via Casagiustri 3, 56040 Montescudaio (PI)
Call Us!
+39 338 1258469/ 389 5554487
E-mail
info@tenutalamacchia.com